Tru-Serve Helps You Pass Regulatory Agency Inspections With Compliance Evaluation Services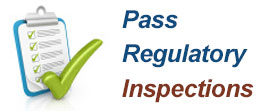 When a regulatory agency, insurance company, or other agency of authority is planning a visit to your facility, the stress level can spike pretty quickly. With so many acronym-laden regulations to keep track of (OSHA, ADA, Joint Commission, the fire marshal) it can be an intimidating task to prepare for. Failure of these compliance assessment inspections can have lengthy and costly consequences, such as shutting down a facility or jeopardizing insurance coverage and reimbursement.
Tru-Serve offers clients incredible peace of mind with their Compliance Evaluation services. Our team has over 40 years of combined experience with regulatory agency compliance. We've been facility owners and been on task forces that were directly involved with various inspection agencies. We know what to look for and how to help you pass your upcoming inspection, all with as little stress on your part as possible.
Compliance Evaluation Service Is Worked Into Every Tru-Serve Service
For our existing facility maintenance customers, compliance assessment is actually worked into our typical periodic inspections of your building. Our preventative maintenance plans fall within agency guidelines, and we offer full reporting that your inspector can review. We know exactly what they are looking for, so our service is like having a trial run inspection.
Compliance Evaluation For New Customers
If you're new to Tru-Serve and have an upcoming regulatory agency visit, we're happy to consult with you. Our professional and comprehensive compliance evaluation includes your entire facility. We walk through, identifying and recording any potential red flags that might garner a negative remark from a regulatory agency representative. Once we've completed our report, you can choose to work with Tru-Serve to create an action plan to address outstanding issues. Alternatively, you can use our report to bring your facility within code on your own.
Bonus Benefits With Our Service
During our visit to your facility, we can also identify repairs or changes that would increase the efficiency of your existing operation, lower energy costs, extend the life of your equipment, and increase your overall ROI. Even within the realm of only inspection items, a compliance evaluation and action plan gets systems running safely and within code. As with all of our services, Tru-Serve offers detailed recordkeeping, so that you have a complete listing of our findings.
Our Vice President, Troy, consults with all clients regarding new services. We pride ourselves on our respectful, top quality service, and would love to earn your business. Please inquire about our full range of services available. Keep your visitors and employees safe, and your equipment running the best it can be. Call Tru-Serve.
Get Your Free Consultation Today!
Call 1-888-271-2704, or send us a message for your free consultation.