Tru-Serve Offers Full Service, Top-To-Bottom Commercial Cleaning Services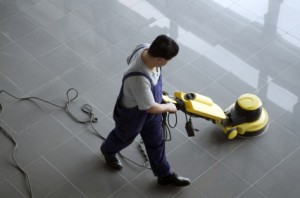 When you have a building or facility, an important part of safety and maintenance is ensuring a clean environment. Whether your own employees work in the facility, or you have tenants, several suites, or one large open area, there are daily, weekly, and monthly tasks that need to be undertaken. Hiring a cleaning company can remove the burden of these tasks and make sure they're done in an efficient, organized and professional manner.
As with the rest of our services, Tru-Serve's cleaning services are completely tailored to each clients' needs, preferences and budget. We come when you want us to come, complete the tasks you want us to do, and we always look for ways to take our services to the next level. And because we have experience in other facility maintenance areas, we're always on the lookout for things that you should be aware of; things that might be a safety risk, a place where you could save money, or could help your business run more efficiently.
Tru-Serve Offers Several Different Levels Of Commercial Cleaning Services
A good janitorial company knows that not every business wants the same thing done each day. We work with you, one on one, to develop a checklist of your expectations, so that when our crew comes in, you know what results to expect. We invite you to critique our services and let us know what you'd like more of (or less of). From doing a CAM job (Cleaning And Maintenance) for your suite tenants, to just a basic trash removal each day, Tru-Serve does it all.
Know What To Expect From Your Commercial Cleaning Company
Many times, companies are blindsided by extra fees and charges for tasks that seem like they should be included in services. With Tru-Serve Building Maintenance, you never need to worry about that. After our consultation with you, we'll compile a customized checklist and base price, so that you can see exactly what you get for what you pay for. Of course, we're also looking for ways we can go that extra mile and impress you on top of the services we already provide. If this means giving you deep discounts on other services, we will do the best we can!
Trust Tru-Serve To Be Your Quality Commercial Cleaning Company
Several of our clients deal with highly confidential information, or request that we only clean specified areas of their facility. This is something we're used to dealing with and our employees are held to the highest standards of ethics. You'll always know who was in the facility, what they did, and what the results were, whether it's the daily trash removal, vacuuming, wiping down of surfaces, or cleaning up your break room and kitchen. We take full accountability for the work we complete, and take pride in being your chosen service provider.
Our Vice President, Troy, meets with each prospective new client to discuss our services, ethics, and your expectations. We love showing our clients how smoothly and efficiently their facility maintenance services can run, and would love the chance to earn your business. Give Tru-Serve a call, and see how we can make your job easier.
Call 1-888-271-2704, or send us a message for your free consultation today!