Comprehensive Building Maintenance Repair Services Now Available From Tru-Serve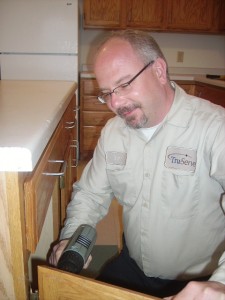 While we do a large amount of business in preventative maintenance, compliance evaluation, and HVAC repair, Tru-Serve techs are also specialized in general building maintenance repair services. There are numerous tasks involved with keeping a facility running smoothly, but when the carpet needs to be replaced, or you need a fresh coat of paint, that falls under a different category. With drafty doors or windows, crumbling concrete or brick, or general carpentry, your business could be losing valuable time from trained employees on work that could easily be outsourced from Tru-Serve.
Tru-Serve, as always, offers completely tailored repair services to your business. Whether you'd like to plan out a schedule to make changes or repairs to different areas of your facility, or you need a one-time fix, Tru-Serve can accommodate your request. Each employee we send to you is bonded, insured, and is knowledgeable about the task at hand. We ask a number of questions during your consultation that will allow us to choose the ideal tech or team to visit your facility, in order to get the job done in the fastest, most effective way possible.
Building Maintenance and Repair Services Can Be Planned or An Emergency
You may want to sit with Troy, our Vice President, and plan for a specified time period, or you may call us and need us to come out immediately. We're staffed and ready for both of these types of work, and maintain our strong commitment to earning your business each and every time.
We spend time determining the right repair that's needed, not the fastest or the most expensive. While planning out your building maintenance costs can be helpful, there may be times where you need us right away. Tru-Serve is committed to being there for you.
Tru-Serve Is Qualified For a Wide Range of Services
Tru-Serve is experienced and qualified to handle a wide range of building maintenance issues, from general construction to structural, electrical, plumbing, mechanical or utility repair. Unlike other general contractors, we have techs that are specialists in each of these areas. This means the overall cost is lower, because you're not hiring a company that only performs in that sector. Our crew is up to date on the latest technologies and certified in their fields, and can offer you the ideal solution for any issue that may arise.
Tru-Serve Strives To Do It Right, The First Time
We take a lot of pride in the outcome of all of our work. Your satisfaction is guaranteed. In fact, with every visit to your facility, we keep our experienced eyes peeled for any other opportunities we see that would improve the cost-effectiveness of your business. When we're out for a two hour call to your facility, and our repair only takes an hour, we'll spend that other hour fixing other issues for you. We're so much more than just a building maintenance repair company, and we can't wait to earn your business.
Our Vice President, Troy, meets with each prospective new client to discuss our services, ethics, and your expectations. We love showing our clients how smoothly and efficiently their facility maintenance services can run. Give Tru-Serve a call, and see how we can make your job easier.
Call 1-888-271-2704, or send us a message for your free consultation today!